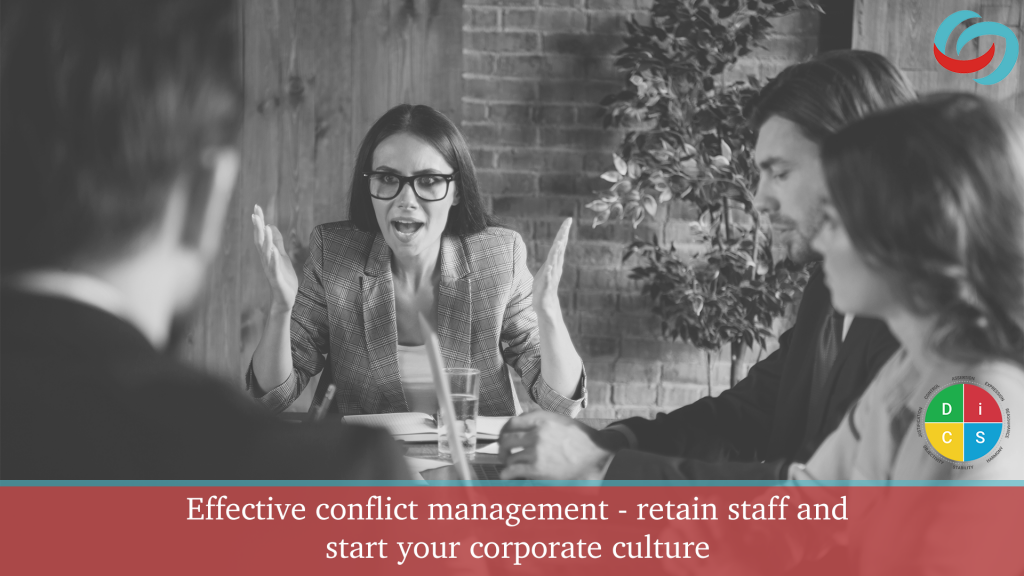 Through effective conflict management, strengthen teamwork and develop a corporate culture.
---
Please ask yourself the following questions:
Does your company also suffer from staff fluctuation?
Are highly potential people increasingly leaving the company?
Are you having difficulty finding staff that are qualified and committed?
During conversations with staff, are complaints about the corporate culture being bad or even non-existent?
If you answered "yes" to at least one of the questions, you may benefit from our Conflict Management Workshop
---
Can the DiSC personality profile also help to resolve conflicts?
Definitely. We must make a clear distinction here between a problem and a conflict. A problem is factual, but the conflict is on a personal level. Different personalities approach conflicts differently. Hence, it´s important to become aware of our perception and effect on someone. This is where DiSC can make a valuable contribution to conflict resolution.
As certified DiSC trainers, we are happy to generate your Everything DiSG Productive Conflict profile for you. During a 1-hour profile coaching session, we will guide you through your profile and explain the details to you.
---
If you are interested in our conflict management workshop or the Everything DiSC Productive Conflict Profile, just contact us. Our project manager, Mrs. Sandra Högen, is available at any time on +49 (0) 9402 937 4001 or info@tcw-vertriebskultur.de.