What have I got in my bag?
---
Today, I´m going to tell you about everything I have in my bag when being on a business trip
1.) The Art of War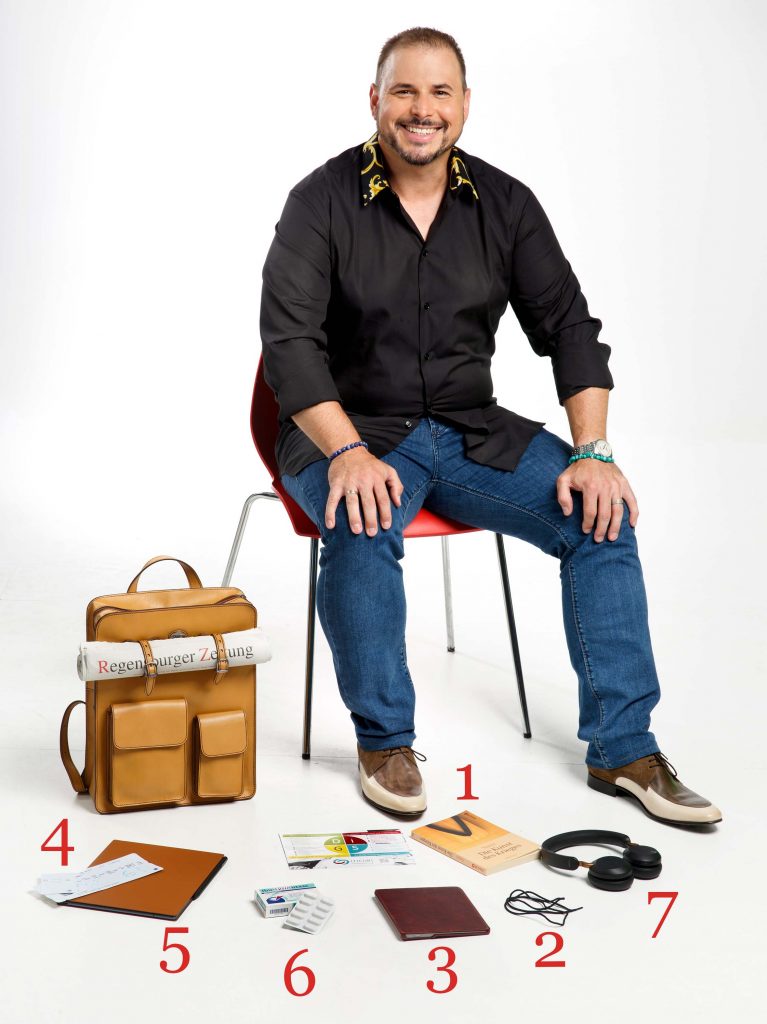 "I always have the 'The Art of War' with me. It is and remains my bible when it comes to sales. Although it was written over 2,500 years ago, it hasn´t lost any of its relevance – not even a bit. "He who plays out many situations in his head before the ballte has a good chance of victory. He who only plays out a few situations has a poor chance of victory. He who acts thoughtlessly must lose. This is how you can see beforehand who will win and who will lose." Master Sun has taught us all we need to know!"
2.) Shoelaces (broken)    
"Yes, I know exactly how you feel when you´re in sales. The pressure you have to bear. My shoelaces have broken just before a meeting, too – ha, ha, no shop anywhere nearby, of course, and I couldn´t get the right ones at the airport either. If you´ve never been to see a client before, you have no idea what it´s like to be in that situation. Embarrassing, really embarrassing, but at the end of the day, we´re only human!"
3.) Kindle
"I really love reading to switch off between meetings, on the train, on the plane or in the evening in the hotel. I always love a good thriller, a historical biography or another of those countless management books. Just to tell you right now – my favorite book (let´s leave 'The Art of War' out of it for a minute) is 'The Godfather' by Mario Puzzo – you know, don´t you: the Godfather is the solution to all our problems."
4.) Planes tickets                            
"Yes, missed missed the connecting flight, postponed the meeting and got new tickets for a later flight yet again. I´ve done that often enough, too. As if the pressure of sales weren´t bad enough – you have to reschedule and reorganize things over and over again."
5.) Tablet
"I always have my reMarkable tablet with me – get my thoughts down straightaway. It happens again and again on business trips that I get the best ideas for how you could structure sales processes to make them even more effective. I also have all my notes from my customer meetings with me – a good way to get organized and finalize deliverables on time."
6.) Ibuprofen (VICTORY)                    
"Oh yes, the headache the morning after the party! And what parties we had when we celebrated the big deals! I´m going to tell you something – you have no idea how important it is for you, your colleagues and your customers to celebrate a big deal. Hopefully, it will be the start of a long und successful relationship. Let your hair down!"
7.) Headset (DEFEAT)      
"My goodness, yes, you have to be able to handles defeats as well. There´s nothing worse than being perfectly prepared for the final meeting and then not landing the order. Believe me, I know what I am talking about. That feeling of utter emptiness and then a long-distance flight back home as well. So great. In situations like that I always listen to good music to distract myself. The one I like to listen ti mist then is Bruce Springsteen – The Boss almost always has a solution up his sleeve!".